Derby house fire: Dog 'tried to save partially deaf owner'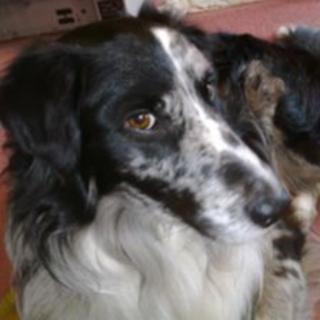 Relatives of a partially deaf man who died because of a house fire believe his dog tried in vain to save him by waking him up.
Don Wilson, 76, was found upstairs next to his collie dog, Max, who was also overcome by smoke and died.
The fire is believed to have been caused by an unguarded open fire in Mr Wilson's bedroom in Holtlands Drive, Alvaston, Derby.
Mr Wilson was confirmed dead at Royal Derby Hospital on Sunday morning.
A relative of Mr Wilson said he did not have central heating and had lit the fire to keep warm in the cold weather.
The relative, who asked not to be named, said: "Max was brilliant because Uncle Don was partially deaf and when the phone rang Max would tell him.
"The lady next door heard noises in the night and we think Max was trying to tell him the house was on fire and wake him up.
'Really good dog'
"By the time he had heard Max he had got up and all the place was full of smoke.
"Max stayed with him and died with him. He was a really good dog."
Mr Wilson had no children but was close to his two nieces, who were the daughters of his late brother.
When he was young he worked for the Royal Air Force Mountain Rescue Service, and later as a joiner for Derbyshire County Council.
Fire crews were called to the house at about 02:30 GMT on Sunday.
As snow continued to fall across Derbyshire, firefighters warned people that open fires should not be overloaded with fuel and fireguards should be in place.
Chimneys should also be kept clean and smoke alarms should be fitted and work properly.
Mr Wilson's relatives believe he did have a smoke alarm but it might not have been fitted to the ceiling and he might not have been able to hear it.