Derby fire deaths: Jury selection starts in Philpott trial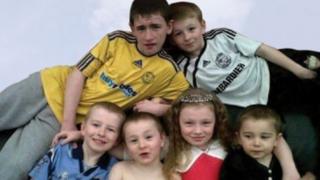 A jury is being selected for the trial of a husband and wife who are accused of killing six children in a house fire in Derby.
Michael and Mairead Philpott, along with third defendant Paul Mosley, deny the manslaughter of the six children.
Five of the siblings died at their Victory Road home in Allenton, on 11 May. A sixth child died in hospital.
The jurors are being selected and are expected to be sworn in at Nottingham Crown Court on Tuesday.
Mrs Justice Thirlwall will sit as the presiding judge for the trial which is expected to last six weeks.
Mr Philpott, 56, and Mrs Philpott, 31, both formerly of Victory Road, and Mr Mosley, 46, of Cecil Street, all from Derby, are charged with six counts of manslaughter; one for each of the children.
Jade Philpott, 10, John, John, nine, Jack, eight, Jessie, six, and Jayden, five, died at their home.
Their brother Duwayne, 13, died two days later at Birmingham Children's Hospital.
The judge told potential jurors they must read a questionnaire containing a list of the names of expected witnesses and alert the court if they knew any of those included on it.
She also issued jurors with a warning not to research the case on the internet.