Derby fire deaths: Mother 'tried to take own life'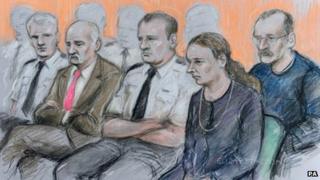 A mother accused of starting a house fire which killed her six children tried to take her own life when her husband's mistress left, a court heard.
Mairead Philpott, along with her husband Mick and friend Paul Mosley, deny the manslaughter of the six children in Derby on 11 May.
It is alleged they started the fire to frame Mr Philpott's former mistress Lisa Willis during a custody battle.
Nottingham Crown Court was told the two women were "like sisters".
On Wednesday Miss Willis told the court she moved into the Philpott home in Derby when she was 17 and began a sexual relationship with Mr Philpott.
Mrs Philpott, who was not married to him at the time, was aware of the arrangement and the women alternated the nights they spent with Mr Philpott.
Miss Willis then told the court Mr Philpott had been violent towards her in the past and controlled all her money.
In February 2011 she told her lover she was taking her five children swimming and left the family home.
'Sisterly confidences'
Under cross-examination on Thursday, Mrs Philpott's barrister Shaun Smith QC asked Miss Willis about the time she left, leaving Mrs Philpott behind.
"When she was left behind at the beginning she was the one who was trying to get you to come back by texting?" he asked.
"Yes," Miss Willis answered.
"You know that Mairead tried to take her own life?" Mr Orchard asked. "Do you know that in the suicide note that she was saying you were like the sister she never had and she loved you?"
Miss Willis said she did not know exactly what Mrs Philpott had written but agreed they had been like sisters, were close and confided in one another.
She said she remembered Mrs Philpott confiding in her that she had been abused when she was a child and had been raped in her teenage years.
Miss Willis was also asked about a voicemail message she is said to have left on Mr Philpott's phone.
Prosecuting barrister Richard Latham QC said to Miss Willis: "There was a threat made wasn't there? 'Leave me, my sister and my family alone or I will kill you'?
"You made that threat at 7.59pm on 1 May to Mr Philpott, didn't you?"
Miss Willis replied: "No I never made any threat whatsoever."
11 children 'not handful'
The message was allegedly left after comments made on Facebook by Mr Philpott which claimed the father of one of Miss Willis' children was her sister's husband.
Mr Smith then asked whether having 11 children in the house - six were those of Mick and Mairead Philpott, four were those of Miss Willis and Mr Philpott and one was another child of Miss Willis's - was "a handful".
"No, not really," she said.
"They were well behaved most of the time?" asked Mr Smith.
"They had their ups and downs," Miss Willis replied.
Jade Philpott, 10, and her brothers John, nine, Jack, eight, Jesse, six, and Jayden, five, all died after the fire engulfed their home in Victory Road, Allenton. Their brother Duwayne, 13, died three days later in hospital.
Mr Philpott, 56, and Mrs Philpott, 31, both formerly of Victory Road, Allenton, and Mr Mosley, 46, of Cecil Street, all Derby, are charged with six counts of manslaughter; one for each of the children.
The case continues.