Darley Dale cricketers in 150-mile charity walk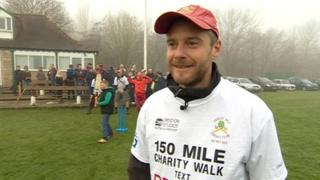 Three Derbyshire cricketers are walking 150 miles (240km) from Darley Dale to Lords cricket ground to celebrate 150 years of their club.
The members of Darley Dale Cricket Club will walk 20 miles (32km) a day for eight days in a bid to raise money for the club and several charities.
University lecturer Stuart Taylor, 34, said the trio aimed to raise £3,000.
The money will be divided between the club, Cancer Research UK and Matlock Hospitals League of Friends.
"Although it's a massive mission I can't wait to get cracking and make sure we reach our destination, no doubt with a few blisters along the way," Mr Taylor said.
"We decided to do this over a couple of pints in the pavilion… we decided this was the perfect kind of pilgrimage for us to undertake," he added.
The fundraisers hope the money raised from the walk will "take them a step closer to their dreams of a new pavilion" at the club.