Fire at International Laboratory Services in Shardlow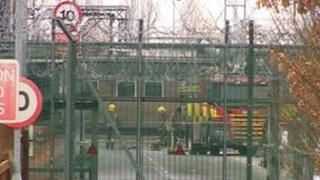 A fire which ripped through a pharmaceutical testing facility in Derbyshire is not thought to be "suspicious or malicious".
The fire service said it was thought to have started in a laboratory at International Laboratory Services Limited (ILSL).
About 100 firefighters tackled the blaze. They were called to London Road, Shardlow, at 01:18 GMT.
A spokesman said an investigation into the fire was ongoing.
Firefighter Matt Lee said: "We are considering an electrical fault. I'm happy I know which room it started in, but we need to determine what made it happen."
When crews arrived at the facility which is based in an industrial business park, they found two laboratories on fire with a lot of smoke, and the fire was in the roof, he said.
He added: "At its height we had 21 fire engines and over 100 firefighters plus specialist officers... there were an awful lot of other buildings at risk."
In a statement ILSL said the fire service was called to the Microbiology Department.
The firm said: "There were no people in the building and the fire brigade worked with members of the Health and Safety and Site Maintenance Departments to ensure the safety of the rest of the facilities.
"Other facilities on the Shardlow Site, including animal rooms, were unaffected by this incident. At this time the cause of the fire remains unknown."
ILSL Operations Director Lorraine Bater said the damage was extensive and one of the laboratories was unusable.
She said the laboratories involved were being used for carrying out testing on foods and pharmaceutical products.