Rare Spanish coins auctioned in Derbyshire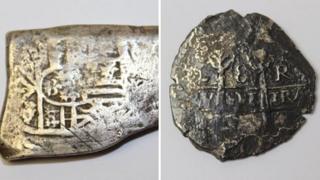 A pair of Spanish coins found on a shipwreck off the Isles of Scilly have been sold for £460 in Derbyshire.
The 17th Century Cob and piece of eight were recovered from the wreck of HMS Association, lost at sea in 1707.
A spokeswoman from Hanson's Auctioneers said the lot generated "tremendous interest" and was bought by a European buyer over the telephone.
The coins were found after the ship, used in the capture of Gibraltar, was dredged up in 1967.
Elizabeth Bailey, from Hanson's Auctioneers, said pieces of eight were used as the world's first global currency.
She said: "The legacy of these coins endures, as they are often associated with merciless battles on the seven seas.
"They are often used in films such as Pirates of the Caribbean."