Derby fire deaths: PC comforting couple told of threats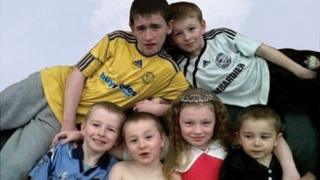 A father accused of killing six of his children in a fire blamed an ex-mistress even as rescue efforts were continuing, a court has heard.
Five children died in the blaze at their home in Derby last May, and a sixth died later in hospital.
Their parents Michael and Mairead Philpott, and family friend Paul Mosley, deny their manslaughter.
PC Joanne Steele said she was sitting with a "hysterical" Mrs Philpott when Mr Philpott said threats had been made.
PC Steele told Nottingham Crown Court she was asked to look after the couple during the morning of the fatal fire on Victory Road.
Custody battle
She said that while with the couple in a neighbour's house, she was asked to find out where each of their children were sleeping and what they were wearing.
Describing the "frantic scene" she said: "Mairead was hysterical, she was shaking uncontrollably. Mick was pacing, quite anxious."
PC Steele said Mr Philpott told her that Lisa Willis had threatened to kill them all, or set fire to the house.
Another officer PC Kevin Cassidy acted as the Philpott's family liaison officer while they were at the Royal Derby Hospital.
He described their emotions as "completely contrasting" with Mrs Philpott clearly distressed and saying very little, while Mr Philpott was "very clear and concise about events the night before, and showed little emotion".
PC Cassidy added at first Mr Philpott refused to go to Birmingham Children's Hospital where his 13-year-old son Dwayne was being transferred, saying he had a court case to get to regarding access to his other children.
Mr Philpott is accused of starting the fire to frame his former mistress Miss Willis during a custody battle over their four children.
Jade, 10, and her brothers John, nine, Jack, eight, Jesse, six, and Jayden, five, died at their home and brother Duwayne, 13, died three days later.
Mr Philpott, 56, Mrs Philpott, 31, both formerly of Victory Road, and Mr Mosley 46, of Cecil Street, Derby, each deny six counts of manslaughter.
The trial continues.