Derby death blaze: Mick Philpott 'couldn't believe arrest'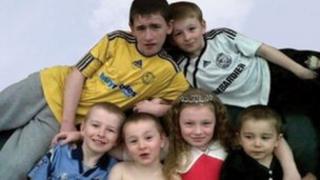 A father accused of killing six of his children in a house fire expressed disbelief he was being arrested over the blaze, a court has heard.
Det Con Steven Barnes told Nottingham Crown Court Mick Philpott, 56, said: "I just can't believe this is happening".
He was arrested along with his wife Mairead over the fatal house fire at their home on Victory Road in Allenton, Derby, in May.
Mr Philpott denies the manslaughter of his six children.
During questioning at Ripley police station Mr Barnes said Mr Philpott told him that he wished he could have got into the house.
"I don't think you understand what it is like losing six children," the court heard Mr Philpott said.
Mr Philpott wept as Mr Barnes read a transcript of the police interview.
'Horrible thing'
Describing the night of the fire, he said he and his wife had been woken up by the downstairs smoke alarm.
He said he did not see any flames when he went into the living room, just a "bright light".
He added he did not know there was a fire until flames and black smoke "shot" out through the living room doorway.
Mr Philpott said he tried several times to smash the window into his daughter Jade's back bedroom from outside but could not get into the house.
"This horrible thing, I dream it every night," he told police.
His wife, Mairead Philpott, 31, and a third defendant, their friend Paul Mosley, 46, also deny the manslaughter of the children.
Jade Philpott, 10, John, nine, Jack, eight, Jesse, six, and Jayden, five, died in the blaze.
Their brother Duwayne, 13, died later in hospital.
The trial continues.