Derby fire deaths: Mick Philpott 'wanted to be a hero'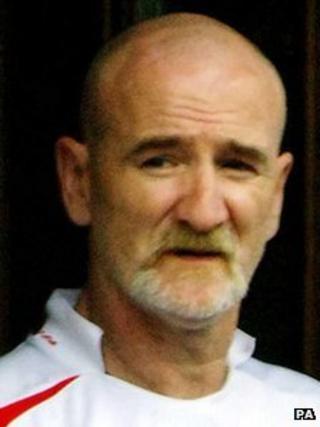 A father accused of killing six of his children in a fire wanted to be a "hero and a victim", a court has heard.
Mick Philpott, along with his wife Mairead and friend Paul Mosley, all deny the manslaughter of the children at their home in Derby.
The prosecution accused Mr Philpott of plotting the blaze in the house and leaving a ladder ready for a rescue.
But he told Nottingham Crown Court the ladder was there because he had cleaned the conservatory.
On his third day on the witness stand, Mr Philpott was accused by Richard Latham QC of planning the whole fire but that it went wrong "within minutes".
'Unfolding nightmare'
Mr Latham said: "You lit it at the bottom of the stairs. Your plan was to go out and rescue your children and be a hero.
"You were going to unlock the window and be a hero and a victim at the same time."
Mr Philpott replied: "Definitely not."
Later, Mr Latham said: "Two minutes in and the plan had gone completely wrong, hadn't it?"
Mr Philpott replied: "There was no plan. All I know is that the window was shut and I couldn't get in."
Mr Latham referred to Mr Philpott's comments during the 999 call, played in full earlier in the trial, in which he can be heard to say "God, please help me".
Mr Latham said: "It came out like that because you knew you were responsible for this whole nightmare that was unfolding in front of you.
"I am suggesting you set this fire - that's why 'God help me'."
"No. 'God help me' because I was losing my children," Mr Philpott replied.
Petrol-driven strimmer
Earlier, Mr Latham suggested a pair of ladders were deliberately left by the window for the rescue along with a wrench to smash a bedroom window.
But Mr Philpott denied this, saying the ladders were there because he had cleaned the conservatory.
He was accused of going back on an original claim he saw the stairs alight, which the prosecution says would have been impossible from where he was standing.
Mr Philpott said his original statement was made when "I was in shock".
Earlier, Mr Philpott was asked why he made no attempt to put out the fire when water and an extinguisher were close by. He said he was panicking.
Experts previously told the jury the fire was started in the hallway with petrol and the same brand of fuel was found on Mr Philpott's tracksuit bottoms.
Mr Philpott said it was because he handled a petrol-driven strimmer.
But Mr Latham said the two types of petrol did not match.
The prosecution then turned to his relationship with his various partners, accusing Mr Philpott of being "manipulative" and "abusive".
Mr Philpott denied this.
Jade Philpott, 10, John, nine, Jack, eight, Jesse, six, and Jayden, five, died on the morning of the fire.
The children's half-brother, 13-year-old Duwayne, died in hospital.
The trial continues.