Derbyshire snowy weather 'worst for 50 years'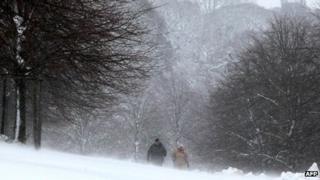 Derbyshire County Council has said snow that has hit parts of the county are the worst the area has experienced for 50 years.
Police have warned that snow and ice has made driving conditions hazardous and snow drifts are blocking some routes.
A number of roads have been affected including the A6 in Buxton and A515 near Ashbourne.
Drivers have been warned not to travel unless absolutely necessary.
Councillor Simon Spencer said: "As fast as we're clearing the routes the wind is blowing the [snow] back on to the highway.
"The teams are working 24/7 to try and get those routes open, we're fighting a losing battle in many cases and that's why they remain closed."
Stranded truckers and a group of students from Kent are taking refuge at the Jug and Glass pub at Hartington.
The A6 Buxton remains closed and there are hazardous driving conditions between the A53 Spring Gardens junction, in Buxton, and the A623 junction in Chapel-en-le-Frith.
The A515 is also closed between the A517 junction in Ashbourne and the B5059 junction in Buxton.