Derbyshire election 2013: Race to County Hall hots up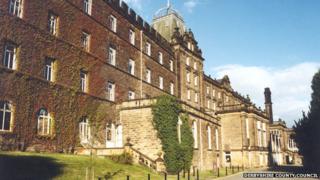 Derbyshire is shaping up to be a fascinating place to watch when voters head to the polls on 2 May.
The Conservatives lost a big figure when Buxton councillor and a former chairman of the council Robin Baldry was found fiddling his expenses, and Heage councillor Juliette Stevens' defection to UKIP has eroded the leading group's slim majority and opened the way for a real contest.
The UK Independence Party has also chosen the county to stage a high profile battle for votes, fielding a candidate in 54 of the 63 wards.
And even the Tory faithful's preferred online source Conservative Home admits it's expecting to lose seats - but it remains to be seen whether Labour voters will also be attracted by the euro-sceptics.
UKIP splitting the vote is the big fear for both parties but there's also speculation over what role UKIP would have if neither gained an overall majority.
Could the party with one seat on 1 May be the king-makers come 2 May?
And the Liberal Democrats have had a tough time in Parliament and some expect dissatisfaction with Nick Clegg and the national party to manifest itself at the ballot box in Derbyshire.
Meanwhile, 14 independents are fighting for your vote, as are nine Green candidates, four from both the British National Party and the Trade Unionists and Socialists Against Cuts, one from Socialist Labour and one from the Monster Raving Loony Party.
All this talk of the national scene ignores the obvious wildcards at any local election - local issues and local candidates.
What matters to the people of a Dales village or a Peak District town is beyond the understanding of many national pundits but loyalty to the familiar may save a few of the old guard where a lesser known candidate would have been unseated.
At the same time all the parties will say goodbye to senior councillors as they stand aside for new blood.
Seats where the allegiance was to the candidate, not the party, suddenly go from safe to anyone's guess.
Still, the old rule that parties in power get a beating mid-term doesn't bode well for the Tories.
Aside from a one-term-wonder in charge in the late seventies, this county was red for four decades until the Conservatives took it back in 2009.
Three visits from the prime minister in as many weeks have been depicted as desperation by some but there are questions for Labour's reputation too as the party's been branded as permanent opposition with a leader yet to make his message clear.
A proportion of people will vote tribally - dyed-in-the-wool Labour voters will vote Labour and Tory voters Tory, regardless of the candidate - but there are always the floating voters whose allegiances change with the political climate.
It is those voters who will ensure that Derbyshire is in the spotlight on election night.