Naming rights 'option' on Derby's £28m velodrome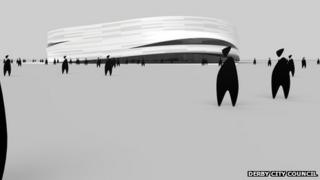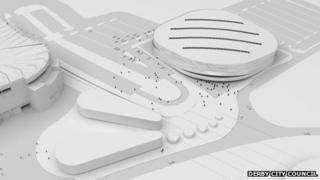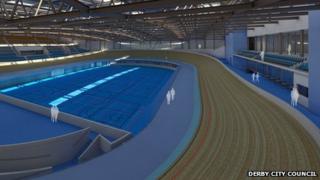 Derby City Council has said it will not rule out selling the rights to name the city's new velodrome when it is completed next year.
The £28m project has been partly funded by the authority, with work starting on Friday.
The city council said it was looking at all aspects of naming the stadium, including honouring sporting heroes.
Suggestions have included Team GB's cycling director, and Derbyshire resident, Sir Dave Brailsford.
Councillor Martin Repton, cabinet member for leisure and culture on the council, said: "We're looking at all aspects [of naming the velodrome]. It's very important to get it right.
"We've had requests about naming it after sporting heroes. It's all in the mix, nothing is ruled out."
Mr Repton, who is a Labour councillor, added that employment would "flow" from the construction of the velodrome.
'Torturous process'
The project forms part of Derby's £54m leisure plans, which include the construction of a 50m pool next to the Riverlights complex, due to open in 2015, as well as several smaller sports facilities.
Conservative councillor Philip Hickson, who helped to draw up the initial plans for the velodrome, said: "It's been a torturous process but we got there in the end.
"It's going to bring so many people into Derby, especially following the interest in cycling generated by the Olympics.
"At present, the nearest velodrome to Derby is in Manchester."
The arena, which will double as a concert venue, will be built on wasteland to the south of Pride Park. It is expected to be completed by November 2014.
The council is marking the beginning of the construction by burying a time capsule, which will contain a Paralympic Team GB cycling jersey.