Duke of Edinburgh plane 'could fly once again'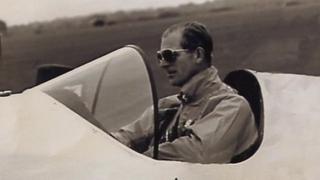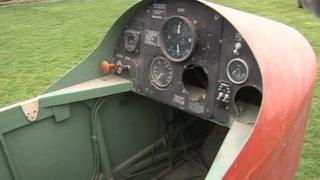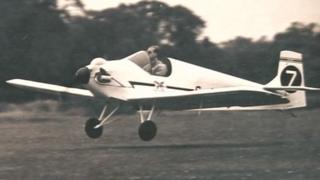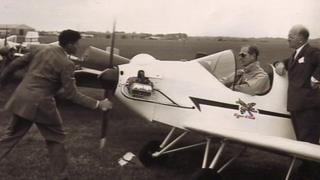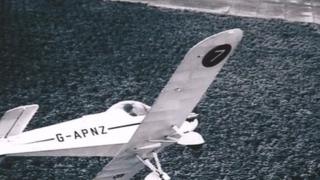 A 1950s single-seat aeroplane once flown by the Duke of Edinburgh could take to the skies once more if campaigners can restore the craft.
According to the Derby Aero Club, the Druine Turbulent is the only single-seat aircraft to have been flown by a member of the Royal Family.
The 1959 aeroplane was damaged in 1995, work started to restore it but it came to a halt eight years ago.
Volunteers from the club now want to fully restore it and see it fly again.
The current owner has handed the aircraft over to the Derby Aero Club, which has just set up a society to restore and preserve the Turbulent.
'The best tradition'
Martin Jones, the engineering inspector at Derby Airfield, said: "It's a very basic, single-seat aircraft.
"It has an open cockpit and a basic windscreen. It's a scarf-flying-in-the-breeze sort of aeroplane in the best tradition.
"In 1959 His Royal Highness the Duke of Edinburgh flew it. In 1960 it was raced by Prince Philip's equerry, a retired air vice marshal Sir John Severne and he won the King's Cup Air Race."
Although the aircraft has been dismantled and is now in a dilapidated state, Mr Jones believes the engineering required to restore it is quite simple.
"The project is eminently 'do-able' in quite a short time," he said. "Volunteers from the club will be working to restore the aeroplane under the watchful eye of the staff."
Sir John is a trustee of the project and plans to visit the airfield in Egginton. Prince Philip is also keen to see the aircraft upon its completion.
"I have to say, I think the chances of him flying it again are pretty slim," said Mr Jones.