Derby Museums' Joseph Wright appeal gets lottery cash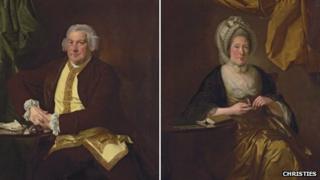 An appeal to buy two paintings by 18th Century Derby artist Joseph Wright has received a £100,000 boost.
In January, Derby Museums Trust set out to raise £122,000 to purchase the portraits of industrialist Francis Hurt and his wife Mary.
It has raised £16,000 in public donations and has now confirmed the grant from the Heritage Lottery Fund.
A museum spokesman said the funding meant it could "build upon its internationally renowned collection".
Wright lived and worked in Derby all his life and his name is "synonymous to the city, like Lowry is to Lancashire and Constable to Suffolk", museum spokesman Roger Shelly said.
"These pictures symbolise the natural resources and economic ambition that drove Derbyshire people to make the county the powerhouse of Britain in the early industrial revolution," he explained.
"It is absolutely proper that they are saved for the people of Derby in the city's prestigious Joseph Wright Gallery."
The purchase of the two paintings will allow the museum to "forge ahead with plans for a major exhibition and study centre", he said.
The paintings will be displayed at the Derby Museum and Art Gallery on The Strand, Derby.