Derby's Derwent hydroelectric power plant opens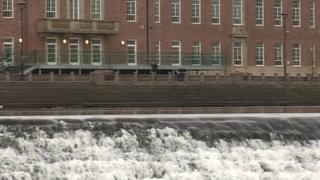 A Derby hydroelectric power plant which generates enough electricity for the equivalent of 300 homes, has been officially opened.
The Derwent plant generates about 1.3m kilowatt hours of electricity a year and also supplies the Council House.
Gethyn Davies, from Derby City Council, said any surplus power would be sold back to the grid.
Mayor of Derby Lisa Higginbottom and Councillor Hardyal Dhindsa cut the ribbon to open the project.
"On weekends and at night when the Council House is in tick-over mode, any surplus power will be sold back to the grid," said Mr Davies.
Mr Dhindsa, cabinet member for the environment, said: "We should be using the power of nature to deliver power which isn't increasing the carbon emissions to the city of Derby."
A consultation on a draft climate change strategy will run until 14 July with an online questionnaire or at the Council House and in libraries.