Derbyshire teen becomes 'fastest 14-year-old in Europe'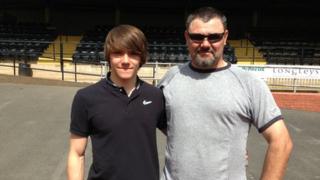 A Derbyshire teenager has become the fastest 14-year-old to run 200m in European history, according to British Athletics' statisticians.
Ryan Gorman from Codnor, who only began running competitively 18 months ago, ran 200m in 21.76 seconds at the England Athletics Open in Birmingham.
British Athletics said he had also run faster than Olympian Usain Bolt at the same age.
Ryan said he wanted to beat his time and was aiming for the 2016 Olympics.
"It's amazing, quite a weird feeling to break a record," said Ryan.
"It was a surprise to find out I ran that quick for my age. I did run quite fast when I was younger in our school competitions but I've only been running for 18 months.
"I'd hope to see this as a future career and would love to go for the Olympics. Just racing for a country, that would be amazing."
Proud dad
No official records are held for British 14-year-olds but a British Athletics' spokesman confirmed Ryan was the first 14-year-old in Europe to run the 200m in under 22 sec, indoors or outdoors.
In a statement, Notts Athletics Club, where Ryan trains, said: "Considering Ryan has only been with the club for a year this is an incredible achievement and we look forward to seeing what he can go on to achieve in the future."
Ryan's father Lee said he could not be prouder of his son. "It's absolutely amazing what he can do, especially for his age.
"When he started hitting all the high speeds and records, it all became a reality."
Ryan added: "I always push myself as hard as I can in training and when it comes to competitions, I try to stay calm and relaxed and just try to have a good time."