Two prisoners missing from Sudbury Prison in Derbyshire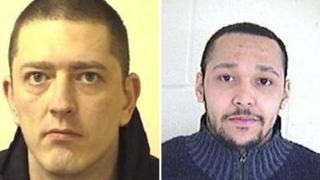 Two prisoners are missing after failing to return to Sudbury Prison in Derbyshire on the same day.
Christopher Weston, 34, was sentenced to life imprisonment for attempted murder in November 2005.
Daniel Walker, 28, was jailed for robbery in November 2006 and escaping from lawful custody in March 2011.
Both men were released from the open prison on temporary licence and failed to return on Monday. Police have appealed for information to trace them.
Weston is white, 6ft 1in tall, of medium build, with short brown hair, hazel eyes and speaks with a Yorkshire accent.
His last known address is Scunthorpe, North Lincolnshire.
Walker is described as black, 5ft 6in tall, of medium build, with short black hair, brown eyes and a one-inch scar to the centre of his forehead.
He has a midlands accent and his last known address is Goscote, Walsall.