Ravensdale crag chicks are first for 20 years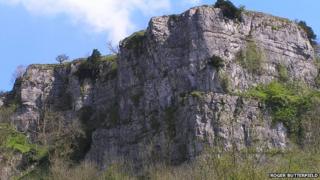 Ravens nesting in an area of the Peak District have successfully bred for the first time in more than 20 years.
Natural England said two chicks had fledged from the crags at Ravensdale - an area named after the birds.
A ban on climbers, introduced to protect the nesting ravens, has now been lifted.
Reserve manager Kevin Bull said: "It's great that after an absence of two decades, the birds are once again gracing this special place."
'Fiercely territorial'
He said: "They are fiercely territorial and will drive even the biggest birds of prey out of their airspace.
"Ravens pair-up for life, so this could be the first season in which this pair has bred successfully."
He added that he was grateful to climbers and visitors for their patience but said the ban had been necessary.
"During this spring's cold weather, even a short absence by an adult could have been fatal for the eggs or chicks," he said.
Ravensdale forms part of the Derbyshire Dales National Nature Reserve, which was declared in 1972 and is managed by Natural England.
The reserve attracts around 200,000 visitors a year.