David Stokes death: Police refuse to answer questions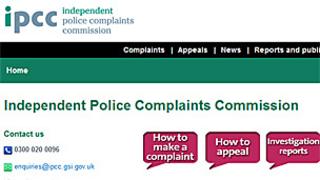 Eight Derbyshire police officers have refused to answer questions during an investigation into a man's death.
David Stokes, 31, was arrested on 19 April near Chesterfield but became unwell and died in hospital. The cause of death has not been identified.
The Independent Police Complaints Commission said the officers' decision only to provide written statements could undermine public confidence.
The Police Federation said the IPCC had "not told the full story".
Mr Stokes, from Birmingham, was stopped in a car as part of a planned operation.
'It is disappointing'
He was taken unwell on the way to a police station and died a short time later at the Chesterfield Royal Hospital.
The IPCC said the officers declined to give accounts immediately after the death.
Under powers which came into force at the beginning of the year, investigators required the officers to go to a full interview.
At this, they declined to answer questions and submitted written statements instead, the IPCC said.
IPCC Commissioner for Derbyshire James Dipple-Johnstone said: "It is disappointing that officers who are immediate witnesses to an incident in which a man died do not answer directly the questions asked of them by the independent body tasked with investigating the death, relying instead on prepared statements later.
"This reluctance to assist fully an independent inquiry by providing best evidence has the potential to undermine public confidence in the police."
Mark Pickard, Derbyshire chairman of the Police Federation, which represents rank-and-file officers, said he was disappointed by what the IPCC had said.
"I think it is disingenuous towards the police officers and it does not tell the full story.
"The officers involved followed nationally recognised guidelines and only delays by the IPCC have dragged the process out."
The IPCC investigation is continuing.
In a statement Deputy Chief Constable Alan Goodwin said: "Derbyshire Constabulary remains committed to assisting the Independent Police Complaints Commission in its investigation into the death of Mr Stokes.
"This is an ongoing investigation and it would be inappropriate for the force to comment further."
The results of further tests following Mr Stokes's death are still awaited.