Peak District to get ranger bicycle patrols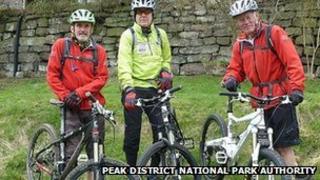 Parts of the Peak District are to be patrolled by rangers on bicycles.
Authorities said they believed it was the first time a national park would have regular patrols of such a type.
They explained the rangers would give advice and practical aid, but would also be able to deal with disputes over access.
Officials added that it was important a rise in mountain biking did not impact on other visitors' enjoyment of the area.
A spokesman said: "The increasing popularity of mountain biking has meant many more cyclists are testing their skills on the area's challenging routes or trying out the gentler trails.
"The cycling rangers - easy to spot in their high-visibility jackets - are there to help, giving directions, cycling tips, first aid, supporting with mechanical problems and if necessary mediating where conflicts arise."
Cycling festival
Pennine Way ranger Martyn Sharp, who championed the idea, added: "Mountain bikers can sometimes feel they aren't welcome because some say they cause erosion and come into conflict with other users. But we all have an impact on the countryside and we've got to respect each other's pastimes.
"Mountain bikers are certainly welcome on our bridleways and by-ways. We'll be letting them know where they can and can't cycle, and telling them about plans for any new routes that will be opened up."
The park authority said mountain bike patrols would enable the rangers to cover a much wider area in a shorter time.
A Peak District cycling festival is planned for the park in September.