Derby archaeologists dig for Roman fort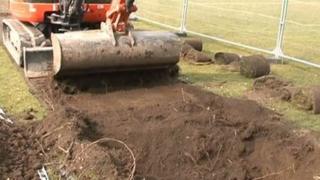 Archaeologists have started digging along the River Derwent in Derby in search of a Roman fort.
The Environment Agency plans to build £35m flood defences along the river at Chester Green in 2015.
Before the work starts they are checking whether a fort exists beneath the site.
A team of contractors, brought in by the agency and the city council, has dug a series of trenches and is now analysing the findings.
'Seeing the detail'
Ed Wilson, the Environment Agency's senior archaeologist, said they had been sharing their findings with the local community.
He said the evidence suggested the fort dated back to AD70, just 30 years after the invasion.
He added: "We're finding evidence of what may be a civilian settlement next to the Roman fort. It's very exciting because we didn't know the extent of the settlement.
"We are now really seeing the detail of the houses and we are finding broken pottery people may have thrown out with their rubbish 2,000 years ago.
"We have an opportunity to show local communities things they didn't know about, buried under their backyard."