Chesterfield College staff strike over job cuts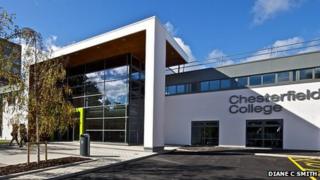 The first of three planned one-day strikes at a Derbyshire college has begun.
Some staff at Chesterfield College have walked out over plans to make 70 people compulsorily redundant.
The University and College Union (UCU) said more than 100 posts had already been lost and further reductions meant education in the area would suffer.
But the college, which said it expected to remain open, said it had to cut costs and meet changing demands.
The college currently has 590 contract staff and another 280 on hourly variable terms. There are about 4,100 students enrolled at the college.
Financial struggle
A UCU ballot last week received more than 90% of votes in favour of industrial action.
UCU regional official, Anne O'Sullivan, said: "UCU members are on strike because they have had enough of the way the college treats them.
"Losing more staff will have a negative impact on the students' education and limit opportunities for local people to be able to study, which is senseless in tough economic times."
College Principal Trevor Clay said: "So far the only alternative which has been put forward by the UCU is to offer an increased redundancy package to those considering voluntary redundancy.
"Unfortunately this is highly unlikely to achieve the reductions in areas which currently have too many staff in comparison to demand and it's also a cost we would struggle to find."
The next strikes are planned for 13 June and 14 June.