Bakewell Baking Festival held for first time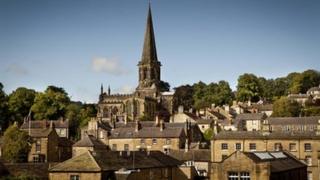 The Derbyshire town that created Bakewell puddings is holding its first annual baking festival.
The organisers of the Bakewell Baking Festival want to attract more visitors to the town, which they describe as "the spiritual home of baking".
The two-day festival will be rounded off on Sunday with a custard pie fight that was almost cancelled over health and safety fears.
Other activities include competitions, demonstrations and workshops.
Bakewell Mayor Paul Morgans, one of the organisers, grew up near Hay-on-Wye and saw how the Hay Festival had helped turn it into "the town of books".
"The whole idea is to get people, when they think of Bakewell, to think of baking like they do with books and Hay-on-Wye," he said.
"We've got an amazing name and we have the heritage of the Bakewell pudding so I thought it made complete sense to set up the Bakewell Baking Festival."
Guests include former MP Edwina Currie, whose warning about salmonella in eggs caused the Bakewell pudding recipe to be temporarily altered in the 1980s.
She will judge the custard pie fight and will help demonstrate healthy baking options.
Recipe in safe
Businesses in the town have sponsored the festival, and a social enterprise has been set up to run it.
Marion Wright, of festival sponsor Bloomers Original Bakewell Puddings, is so protective of the pudding recipe her family uses that she keeps it in a solicitor's safe.
"We go back to about the early 1890s, that was the first time we commercially made it as a bakery," said Mrs Wright.
"My great-great-great-grandfather was given the recipe in lieu of payment - he had to give the family a loaf of bread every single day."
Many shops in the town also make Bakewell tarts, which are a later invention.
Any profits from the festival will be used to fund next year's event.
Janet Reeder, another organiser, said: "The town has been - like the rest of the UK - affected by the recession, so we thought a baking festival would be a good way of giving people a reason to visit."