Derby's Sultan of Zanzibar bust has 'bling' makeover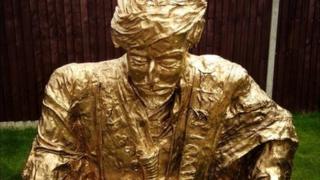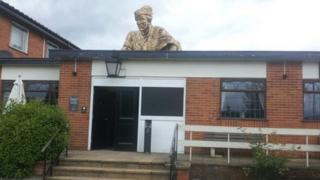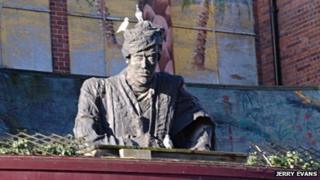 A well-known bust, which sat above a Derby nightclub for more than a decade, has been given a "bling" makeover after being sold for charity.
The Zanzibar sultan bust has been installed on the roof of a pub in Allestree, after 13 of the regulars paid £420 in an online auction.
Now painted gold, the fibreglass bust will stay on the roof of The Woodlands for several weeks.
A permanent home will then be found - possibly elsewhere at the pub.
General manager Mark Ruddock said the sultan "looks happy" in his new home.
"He's just sat on the roof looking down onto the main road, on to the bus route and looking into some houses and some local shops, so he's looking quite proud," he said.
"He's definitely bling. He has perhaps come into the next century."
'Iconic figure'
Mr Ruddock added: "I think he was covered in all bird muck and that but he has been cleaned up now."
A Twitter account has been set up for the bust, which tweeted: "Heard Allestree is the place to be!"
The bust is believed to represent a former sultan of Zanzibar.
It graced the roof of the Zanzibar nightclub, which closed in January 2012 and has been refurbished into a restaurant.
The online auction raised money for the Derby Telegraph's Give Us a Break appeal.
The friends who bought it said it was "such an iconic figure in the city" that they had to keep it there.