Farm case woman Janet Holt claims Fred Handford murder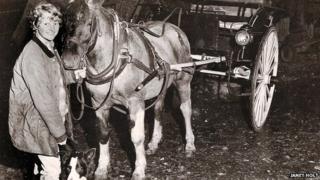 A woman who claims she murdered a farmer nearly 40 years ago says she is willing to go to prison in order to put the case to rest.
Janet Holt, 64, who worked at Ballbeard Farm, New Mills, Derbyshire, said she shot her business partner Fred Handford after he "attacked and raped her".
For years, she believed he had thrown himself down a mine shaft.
However, following several visits to a psychologist she is now convinced she killed him and buried his body.
Fred Handford disappeared in March 1976 - but despite an extensive police search he has never been found.
'Rest of my life'
Ms Holt said: "At the moment there is an open file with the police - which means they can resume the investigation at any time.
"For me that means next week, next year, or in five years, someone could find something at the farm and report it to the police and they would come and arrest me.
"This is always hanging over me - so, it's never really over.
"I would sooner face that now and deal with it than have it hanging over me as an uncertainty for the rest of my life."
In a statement, Derbyshire Police said: "They carried out an extensive missing person inquiry for Fred Hanford in 1976. It was reopened in November 2011 after she came forward.
"A search of the farm was carried out.
"Several places were dug and Janet Holt was arrested and released without charge.
"No new evidence was found to support what she was saying," the force added.
'Shot and buried'
However, Ms Holt remains convinced that she carried out the murder.
Speaking about her visit to the psychologist, she said: "I thought I was going to find out that my nightmares had been caused by the circumstances surrounding my partner's disappearance.
"Instead, what I found was he'd actually attacked and raped me - so subsequently I'd shot him and buried his body.
"I haven't remembered it for 35 years, but I do now."
She added: "I can understand how it might appear to be a false memory - but I've actually relived this.
"It's as real to me as it possibly can be - so much so that I am totally convinced it is all absolutely true.
"I certainly wouldn't be putting myself up to be shot down in this way if I thought there was any doubt about that."