Sheep 'making a mess' at Linton graveyard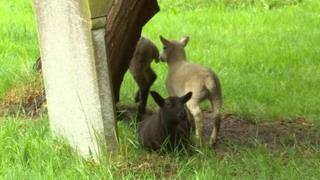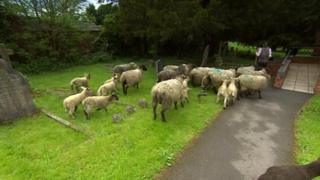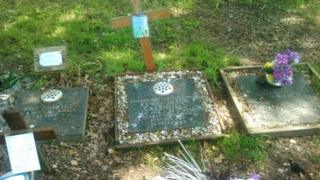 Sheep introduced to trim grass at a graveyard have been eating flowers and making a mess of graves, families have complained.
One family is considering having their relative's remains removed from the graveyard at Christ Church, in Linton, because of the problem.
The 10 ewes and 26 lambs were introduced to the site, near Swadlincote, Derbyshire, in May.
Church warden Barrie Jones said he was sorry for the distress caused.
Keith Greenfield, who lost his son Kevin in a road accident, said it was "heartbreaking" to see.
However, plans are now in place to put an electric fence around the plots and clean up the mess.
Mr Greenfield said: "At least they've said they are going to do something about it, so we'll see.
"Failing that, we are going to have him moved to another churchyard."
'Hidden gravestones'
Kevin's sister Kerry, who was married at the same church last year, said: "The one thing we've got left that we can take pride in has been taken away.
"When you see them walking over the gravestones it's heartbreaking."
Mr Jones said: "We were going to have strimmers do it but when I had a guy come to see me about it he said it was impossible.
"He said it would wreck the machines because there were so many hidden gravestones."
He conceded: "We didn't think about it enough when we were first doing it. I was told that sheep didn't eat flowers - I've subsequently learned that's not true."