Derby shopkeeper attacked by robbers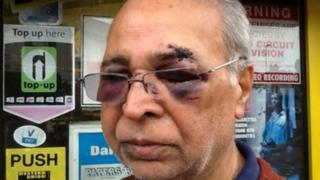 A shopkeeper was beaten by two men who robbed his Derby store, Derbyshire Police said.
Bhajan Singh, 71, was left with face and head injuries following the attack at the Lalria Store in Pear Tree, on Saturday.
Two men entered the store at the junction of St Thomas Road and Portland Street and stole money from the till.
Mr Singh was taken to Royal Derby Hospital after suffering two black eyes that left him needing stitches
'A cowardly act'
Mr Singh said he was initially attacked after one of the men paid for sweets, at about 10:45 BST.
"When I put the money in the till, he hit me with something on the left eyebrow, which broke my glasses," he said.
"He put his hand into the till. I tried to stop him and he hit me on the right-hand side - one or two blows, I'm not even sure.
"They got away with all the money from the till."
Following the attack, Mr Singh's wife called the police.
"These people must be animals - they can't be human beings," he said. "It's a cowardly act to hit somebody like that - I don't understand it."
Mr Singh described the robbers as eastern European in appearance and of medium build.
Both men are about 5ft 9ins tall, with one thought to be aged about 30. They both wore dark beanie hats.
Mr Singh said he would continue to work at the business.
"I don't want these people to think they can force somebody to follow the premises down," he said
Det Sgt Steve Fuller said: "This was a particularly nasty and unprovoked attack on an elderly shopkeeper who has been running his business in the local community for 30 years.
"The injuries he suffered are awful and I would urge anyone with information to come forward so we can bring these criminals to justice."