Fire at St Andrew's Church, Twyford, possible 'hate crime'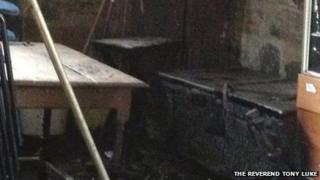 A suspected arson attack at a church is being investigated by police as a possible hate crime.
It is thought a rare Bible was thrown on to the fire which was started in the vestry of St Andrew's Church, in Twyford, Derbyshire, on Wednesday.
Damage estimated at £5,000 was caused and church warden Anne Bennett said the congregation found it very distressing.
A 23-year-old man, from Allestree, was arrested in connection with the blaze and has since been released on bail.
Mrs Bennett said: "When we arrived all we could see was black smoke bellowing out of the bell tower and the spire window, it was quite frightening.
"Our main Bible in the church, which was a beautiful leather-bound huge copy, was taken and put on the fire along with the vicar's vestments, the frontal and linen from the altar.
"We all found it, as a congregation, very distressing."
A late medieval oak chest was also badly damaged in the fire.