Pingle School in Swadlincote put in special measures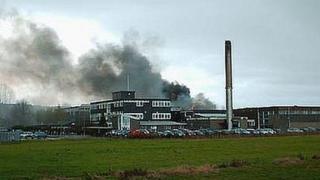 A Derbyshire school which suspended its head teacher has been put in special measures.
Bryan Carr was removed from his position at the The Pingle School in Swadlincote in May.
The school, which was damaged in a major fire in 2005, was rated as "inadequate" by Ofsted in June 2012.
Inspectors have now found weaknesses in teaching, learning, leadership and the sixth form. The county council has said an action plan is being put into place.
In May, the school said Mr Carr's suspension was a neutral act and he had already signalled his intention to leave.
'Worrying time'
Following the Ofsted decision, acting head teacher Vivien Sharples said: "We will build on the school's strengths to ensure we remove barriers to learning and achievement for all pupils.
"We will use the pupil premium which is allocated to schools for pupils on free school meals to put in extra support to boost levels in English and maths."
Jim Coyle, deputy cabinet member for children and young people, said: "It's always a worrying time for parents when a school is placed in special measures.
"Our education advisors will be working closely with the head teacher and governors to drive standards up."
In April 2012, two 15-year-olds from the school were reprimanded by police after being caught in possession of drugs and offensive weapons.
In December 2005, 14 classrooms and two science labs were destroyed in a fire started by a pupil who was playing with a lighter and an aerosol.