Allestree and Twyford church fires suspect accused of arson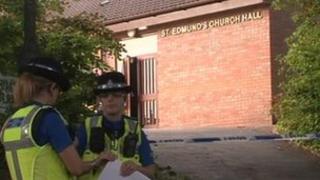 A man has been charged in connection with fires at two churches and a church hall in Derbyshire.
Derbyshire Police said the charges related to a fire at St Edmund's Church, Allestree, on Wednesday and one at St Andrew's Church, on 19 June.
The kitchen of the church hall in Allestree was also damaged by smoke.
Police said the suspect, who was detained earlier, had been charged with arson and is due before Derby magistrates on Friday.