Peak District: Roych green lane closed to motorised vehicles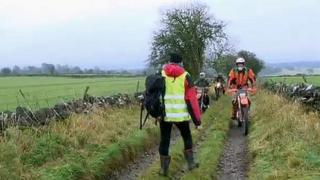 Motorised vehicles have been banned from an unmade road in a Derbyshire beauty spot despite continued protest.
The Peak District National Park Authority will exclude vehicles from the 3.5km Roych, part of the Pennine Bridleway, near Chapel-en-le-Frith
But the Trail Riders Fellowship (TRF) said vehicles only had access to 1% of the park and will fight the ban.
The authority said it had not taken the decision lightly.
The closure order is part of a long running battle between the PDNPA and the The Peaks and Derbyshire Vehicle Users Group over the routes, known as "green lanes".
Earlier this year it had to reopen Chapel Gate, a nearby route, after a High Court order overturned the closure order.
The authority is now running a consultation on all the routes it intends to close.
The latest to be completed is for the Roych in which more than 1,000 objected to the ban and more than 1,235 were in support.
Christopher Pennell, from the authority, said: "We have not taken this decision lightly.
"The Roych is a very popular route with many different users but it crosses some of the most environmentally-sensitive areas of the national park."
Mike Irving, of the TRF, part of the Vehicle Users Group, said the authority was wasting money on closing the routes.
"Motorised users have access to just 1% or 2% of the unsurfaced rights of way in the Peak Park," he said.
"Those who don't wish to encounter the occasional motor vehicle while they are in the park have all the footpaths, bridleways and restricted byways to choose from, plus all the right-to-roam lands."
"We fail to see why the PDNPA is seeking to restrict the few vehicular routes that there are left."
A consultation on the future of the Chapel Gate route ends on 28 June.