Whitworth Park lakes 'top up' after source diverted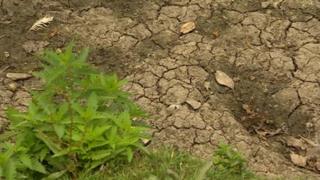 Two Derbyshire lakes which had their water source diverted during the hot weather have been topped up with water.
Water levels at Whitworth Park, in Darley Dale, Derbyshire, have dropped dramatically and its fish and amphibians are said to be at risk.
The Whitworth Trust said about 34,000 gallons (154,567 litres) of water usually flow into the ponds per day.
The trust is in discussions with a local landowner about re-establishing the flow.
'Not malicious'
Darley Dale Town councillor Ian Walker, who is also with the trust, said cracks had also appeared in the clay base of the pools due to the "extraordinary weather".
He said: "We'll have to do some remedial work, but we have to get the water in first and see what kind of depletion we have.
"The most important thing is we must restore the natural source of water."
He added that the diverting of the watercourse, which comes from a hillside spring, was "not malicious".
Untreated water from a Chesterfield company was pumped into the 120-year-old lakes on Monday morning.