Philpott children memorial garden plan rejected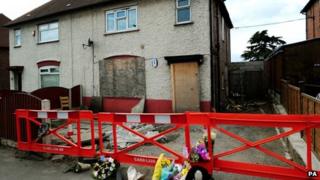 The family home set alight by Mick and Mairead Philpott killing six of their children will not become a memorial garden, Derby City Council has said.
The council intends to demolish 18 Victory Road and the neighbouring home and build more housing on the site.
A petition had called for a memorial garden to be created.
But councillor Baggy Shanker said this could attract anti-social behaviour, and people in the street did not want a permanent reminder.
Some people drive down the street just to see the house where the children were killed, neighbours have reported.
Mr Shanker said: "The memorial garden, although initially may be quite popular, it's likely it would fall into disrepair.
"It would attract anti-social behaviour and stuff and I think there's also a sense of feeling that the time is right to move on and put this awful tragedy behind everybody."
'Isn't appropriate'
An elderly couple lived in the adjoining house at the time of the fire but they have both since died.
Mr Shanker added: "Local residents feel that a memorial garden isn't the appropriate thing for the site moving forward and they would prefer it to be returned to residential use, so that's what we intend to push ahead with."
The Philpotts were jailed in April for starting the fire - along with their friend Paul Mosley - which killed Duwayne, 13, Jade, 10, John, nine, Jack, eight, Jesse, six, and Jayden, five.
Mr Shanker said the decision about the houses had been made after nearly 200 people living nearby were consulted.
The online petition calling for a memorial garden was started by a man from Alfreton in Derbyshire - about 15 miles (24 km) from Victory Road.
Derby City Council took legal possession of the property at 18 Victory Road earlier this year.