Derbyshire fire strike cover plan prompts FBU dismay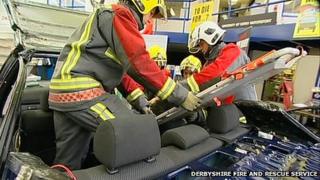 Volunteers with two weeks of training are to be used as cover in the event of a firefighters strike in Derbyshire.
The Fire Brigades' Union (FBU) is considering industrial action in a national dispute over pensions.
Fire service bosses are looking to recruit 65 people who will be given basic training to respond to 999 calls.
The FBU claim the move will put lives at risk but managers say the service has a legal obligation to provide fire cover and can no longer use the army.
The dispute centres on changes which the union claims would see members paying more for lower benefits and could force some older firefighters out of a job.
The government has insisted the fire service would still have one of the most generous pension plans in the public sector.
Strike cover crew will be paid at £10 per hour during the training period and £150 per 12-hour shift when called out.
Marc Redford, from the FBU in Derbyshire, said it was obvious those with limited training would not be as capable.
"People who want to step forward and do this should not regard it as a quick way to make money.
"This is a very dangerous profession and lives are lost annually across the fire and rescue service and that is with professional staff."
Mr Redford also confirmed there was no protocol in place for members to leave the picket line no matter what scale of incident took place.
'Defensive role'
Derbyshire Fire and Rescue Service (DRFS) chief fire officer Sean Frayne said it was in "an extremely difficult position".
"Clearly we will not be able to deliver the same level of service but what we will be able to do is provide a basic first aid response.
"The issue that we have got is, do we stand back and say there is no level of response whatsoever in the county?
"Surely that puts members of the public at greater risk than sending some level of response which can mitigate damage?," he said.
Mr Frayne said the temporary crews would be deployed in a "defensive role", co-ordinated by experienced non-union staff, to deal with minor incidents or to stop major fires spreading.
The DFRS wants to recruit 50 reserve fire crew members for general duties and another 15 reserve with LGV qualifications and experience to drive fire engines.
The FBU strike ballot will close on 29 August.