Alfreton cemetery: Anger over gravestone garden fees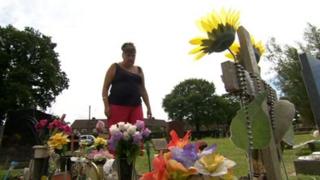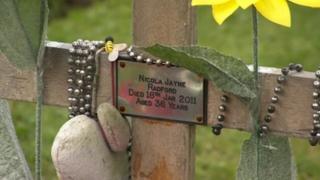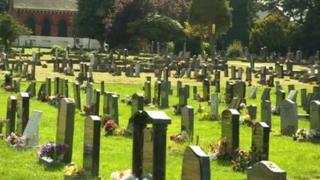 Relatives who have more than one plant pot on their loved ones' graves in a Derbyshire cemetery say they are angry over notices asking for extra payments.
Amber Valley Borough Council has issued a number of fee notices on plots in Alfreton cemetery, on Rodgers Lane.
The notices warn that additional items will be removed unless relatives pay for a garden permit.
The authority said the one-off fees were necessary to go towards the higher cost of maintaining the graves.
However, Maria Radford, whose daughter Nicola is buried in the cemetery, said the charges were unfair.
She said: "I feel they are punishing the people who are in these graves if their loved-ones can't go and put what they want in their memory."
'Does not comply'
Another relative, Rebecca Day, whose grandmother is buried in the cemetery, said she planned to "fight the council all the way".
She said: "I don't mind having a garden permit, but I don't think we should have to pay for it."
Simon Gladwin, from the council, said plots at Alfreton cemetery cost £525, with garden permits costing £52 or £87 depending on the plot size.
He said: "The fee is levied as when someone creates a garden that makes it more difficult for the area to be maintained, and therefore increases the council's maintenance costs. It is a one off fee that we charge."
The relatives have also called for the council to reconsider its approach to how it issues the notices, currently placed on the gravestones.
Mr Gladwin said: "The notice is relatively discreet. It is only an A5 notice saying the garden does not comply with standards and to call the officer to discuss it further."