Derbyshire County Council to compensate mother of children in care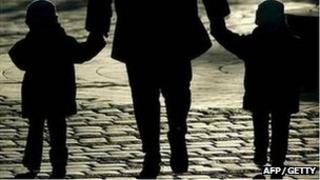 A mother whose two children were placed into care is to be compensated by a council which ignored her complaints.
The woman, known only as Mrs X, claimed a social worker "acted without human dignity" in his treatment of her and her children.
The Local Government Ombudsman (LGO) investigated and found Derbyshire County Council had repeatedly failed to properly investigate her complaints.
The council apologised and said it would prevent similar mistakes.
The authority took more than two years to respond to the mother's complaints, despite assuring the LGO three times that it would investigate.
'Years of anxiety'
The LGO, Dr Jane Martin, has now asked the council to pay Mrs X £500 for the time and trouble she took pursuing her complaints, and for the distress caused.
Dr Martin said: "This is a clear-cut example of a council failing to deal with complaints effectively, which could have saved years of undue anxiety for the complainant.
"Despite regular chasing by my office and the complainant, the council failed to act appropriately and carry out a stage two investigation - something which it has a statutory duty to perform."
Mrs X's children were placed into care in 2008 and she complained to the council in 2011 but it told her there would be no investigation because matters had been before a family court.
'Sorry for distress'
She then complained to the LGO, in May 2011, which determined there were elements of the complaints that could be separated from matters before the court.
A Derbyshire County Council spokesman said: "We're sorry for the distress this has caused and have given Mrs X our sincere apologies for how we responded to her specific complaints.
"Sadly we didn't follow up on the complaints correctly in this instance and fell short of the standards we expect of ourselves."
The council said it has already acted upon all of the recommendations in the report.
The council has also appointed an investigating officer to examine the mother's complaints, as the LGO recommended.