'New' narrowboat for improved Cromford Canal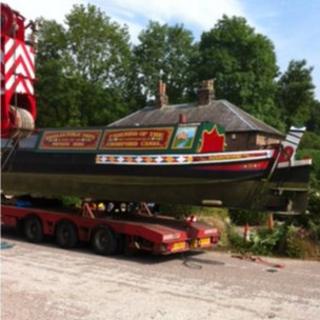 A refurbished 1938 narrowboat which will take fare-paying passengers on the Cromford Canal for the first time since 1989, has been lowered into place.
Last year Derbyshire County Council began a £300,000 project to dredge a 1.3 mile stretch of the canal to allow boats to use it.
"Birdswood", which has been converted from diesel to electric arrived at Cromford Wharf on Saturday morning.
It is hoped trips to High Peak Junction should begin in August or September.
Popular cruise
Mike Kelly from the Friends of Cromford Canal said it had been a nerve-wracking wait for the narrowboat to arrive.
"For a project such as this, there are quite a few things to happen and these can obviously go wrong.
Chairman of the group Matthew Rogers said: "The friends are looking forward to providing boat trips and for this to play a role in attracting and retaining both existing and new visitors to the Derwent Valley Mills World Heritage Site."
The last fare-paying boat to travel along that stretch of water was in 1989, said a Derbyshire County Council spokesman.
In the late 1970s to early 80s a similar trip boat cruised from Cromford Wharf to High Peak Junction and was popular with tourists.
The narrowboat will now undergo maritime texts to make sure it is canal-safe.