Peru search for missing UK hiker Thomas Jagger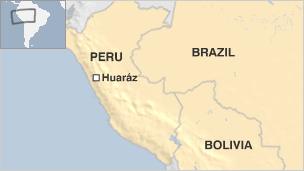 Rescue teams are searching for a missing UK hiker in a mountainous region of Peru.
Thomas Jagger, 22, of Derbyshire, had been walking near Huaraz, in the Ancash region of the country.
A Foreign Office spokesman said it was alerted seven days ago but could not confirm how long he had been missing.
They issued a statement on behalf of the family and a close friend of Mr Jagger which said: "This is a sad time for both families."
The statement, from Stuart, Helen, Frances and Iain Jagger and Mark, Julia and Luke Dyer, continued: "Tom was a much-loved son, brother and friend and we wish to be given time to come to terms with what has happened.
"This difficult period is not being helped by speculative and untruthful reports appearing in the tabloid media. We would like to be left alone to grieve privately."
Consular assistance is being provided to his family, who are thought to be from the Buxton area.
A spokesman from the University of Warwick, where Mr Jagger was a member of the mountain club, expressed his concern at the news.