Derby Hippodrome: Campaigners back theatre option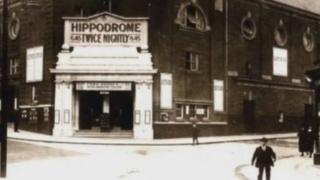 Campaigners trying to save a derelict Derby theatre are backing an option to restore it to its former use.
The Grade II listed Hippodrome on Green Lane, which opened its doors in 1914, was damaged by repair work in 2008 and more recently by fire.
A feasibility study commissioned by the city council and English Heritage outlined three possible uses for the building.
A full restoration of the theatre would cost about £16m.
Although it is the most expensive option, Joan Travis, chair of the Derby Hippodrome Restoration Trust, said it was the group's choice.
She said: "Derby has a big gap in the market for a theatre of this size and the Hippodrome would fill that gap.
"It was a theatre and should remain as a place of entertainment."
Other options include restoring parts of the building for use as a cafe or using it for apartments or student accommodation.
The study also found that "a cocktail of funds" would be needed to finance the work.