Government 'undermining' councils, Derby councillor says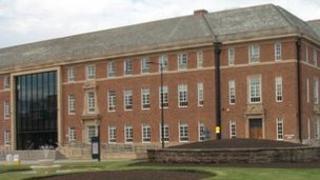 The coalition government is "fatally undermining" local authorities, according to the deputy leader of Derby City Council.
Labour deputy leader Ranjit Banwait was speaking after the council found its budget hole had increased from £74m to £80m over two years.
Mr Banwait warned some council services were being cut to the "bare bones" and may "cease to exist".
But the government said it hoped the measures would "transform" services.
'Cease to exist'
Mr Banwait said: "There are a number of services, such as social care, we have to provide by law.
"You can cut them to a certain level, but after that there is a risk factor.
"The way things are at the moment, discretionary council services will cease to exist."
He said councils were being encouraged to look to the private sector to run services.
"It's forced privatisation," he said. "And once you have privatised a service, you have potentially lost it.
"Some councils will not get through this level of budget cuts and I believe some of them will go under."
The council has already removed its public floral displays to save £102,000 over the next two years.
'It's disingenuous'
Mr Banwait said services traditionally provided by local authorities could now end up being run by the public under schemes such as Right to Challenge.
"It opens the door to members of the public to take services off the council and run them themselves," he said.
He said the city council had not yet received any such challenges.
Conservative councillor Christopher Poulter said: "I think Mr Banwait is saying this to divert attention from the council's budget choices.
"All local authorities are facing shortfalls because of the economic times. It's down to the administration to decide where they make the savings and it's disingenuous to blame it all on central government."
A spokesperson for the Department for Communities and Local Government said it was attempting to tackle the deficit left by making savings of 2.3% in local government spending for 2015-16.
He said: "This change is balanced with a progressive package of measures which create a real opportunity to transform local services and help deliver better outcomes for less.
"The total amounts allocated to local authorities have not changed since the spending round."