Cuts will 'devastate' Derbyshire, say Labour councils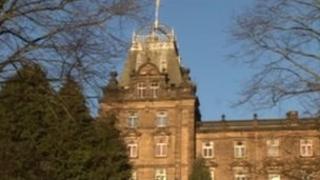 The leaders of six Derbyshire councils have requested a meeting with a senior government minister to discuss "devastating" budget cuts.
The six authorities, including Derby City Council and the county council, sent a letter to Communities Secretary Eric Pickles outlining their concerns.
The letter said "unexpected, additional reductions" had been introduced since the Spending Review.
But the government said the amounts allocated had not changed.
'Cuts getting deeper'
The letter claimed the cuts would have a "devastating impact on Derbyshire people and on local communities, with many not getting the services they need."
It added: "In central government, you look to councils to deliver services to meet people's needs. With the ongoing cuts getting deeper and more devastating, it is becoming an impossible scenario."
They said proposals in the Local Government Financial Settlement, published on 25 July, contained additional reductions to council budgets to those announced in the Spending Review.
Derby City Council said they will lose an extra £39m over the next five years, while Derbyshire County Council said they will lose £30m extra.
The letter was signed by Anne Western, the leader of the county council, Paul Bayliss, the leader of Derby city council, and the leaders of councils in High Peak, North East Derbyshire, Chesterfield and Bolsover.
All six councils are Labour-led.
Mr Bayliss said: "The information we were supplied with by the government has changed and that means we are worse off.
"It means this council will have larger cuts because the numbers keep getting worse."
Ms Western said: "We want to make it clear to Eric Pickles he should be supporting us and not offering us up as a sacrificial lamb.
"We wanted to get all the authorities in Derbyshire to sign the letter. Some didn't feel they were able to, but six councils have.
"This is not just a Derbyshire issue. It's a national issue that's affecting all councils up and down the country."
A spokesperson for the Department for the Communities described the cuts as measures which created "a real opportunity to transform local services".
He added: "The total amounts allocated to local authorities have not changed since the spending round."