Osmaston housing work to start next month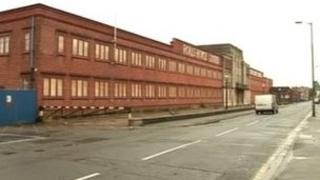 A £500m regeneration scheme on a "forgotten" part of Derby could begin next month, almost four years after it was first proposed.
The Osmaston Vision project will see hundreds of houses built around the former Rolls Royce factory in Nightingale Road.
Residents were consulted on the plans in 2009 and said the area had become a "mess" and been neglected ever since.
Andrew McNeil from Derby Homes said phase one would start in September.
'Scepticism built up'
Derby Homes is working with Derby City Council and resident's association OSCAR to put together the designs for the site.
The scheme will include hundreds of new houses, a park, shops and a refurbishment of the local primary school.
Mr McNeil, head of development at Derby Homes said the first diggers would move on to the area around Glossop Street to start building.
He said plans for the remainder of the site will then go before the city council in spring next year.
Leigh Alcock, chairman of OSCAR, said residents would be happy to finally see work starting.
He said: "The scepticism has been built up over 40 years of neglect, consultation and no action but once the work starts it will change into more excitement across the area."
The main Rolls Royce building in Nightingale Road is a Grade II listed building and plans have been put forward to convert it into a community facility.
The firm's site initially focused on motoring but played a major role in Britain's wartime efforts, producing Merlin aircraft engines.
Most of the workforce moved to a new site in Sinfin in 2007.