Work begins on Derby city centre flood scheme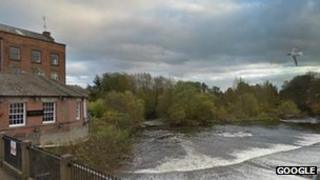 Work is under way in preparation for a major flood defence scheme in Derby city centre.
The Environment Agency is drilling at a number of sites along the River Derwent to test ground conditions.
The work is part of a scheme called Our City Our River, which aims to regenerate the area and encourage private development.
More than £80m of government funding will go towards the joint city council and Environment Agency initiative.
Project manager Vaughan Felton said: "Derby city centre is at risk of flooding and some of the existing defences are old and in need of replacement.
"What we are looking to do is increase the level of protection but also open it up for regeneration."
"It's very much about economic growth and connecting the city back to the river," he said.
The drilling work is expected to last about six weeks and will take place between the fields north of Alfreton Road Industrial Estate down to the Council House.