Community 'outraged' at Derbyshire Peak District pub sale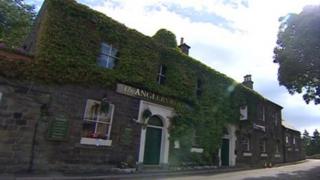 Derbyshire villagers have said they are "outraged" after learning a pub they planned to buy for the community is being sold to a rival bidder.
Residents in Bamford, in the Peak District, had raised £184,000 to turn the area's last remaining pub - the Anglers Rest - into a community hub.
But owners Admiral Taverns said it had agreed a sale with another buyer.
Residents said they feared the incoming owner may close the pub and sell the site, but he denied this.
The villagers had formed a co-operative, named the Bamford Community Society, and had been selling shares in the business since July.
They planned to relocate the village post office into the pub and also open a cafe.
They had registered the pub as an Asset of Community Value - a government scheme to protect community venues - and planned to meet the remainder of the £320,000 asking price with low-interest loans.
Villager Rebecca McIntyre said: "We had asked our solicitor to start the conveyancing process and it was only then we were told there was another bidder. Within two days, Admiral Taverns had exchanged contracts with this third party.
"We feel devastated, angry and let down. We understood the Localism Act gave us a certain amount of time to bid for the venue. We are seeking legal advice but if the buyer does take ownership of the building, the society will have to be wound up and the investments returned."
The buyer, Carl Higgs, said he was not aware the pub was registered as an Asset of Community Value when he agreed to purchase it.
Although he confirmed three of his previous pub investments had closed, with two sites sold for housing, he said the communities in those areas had supported the changes.
He added: "I categorically deny wanting to demolish the Anglers Rest and use the land for housing development.
"I intend to continue the pub operation as a going concern.
"I will talk to the community with a view to housing the post office facility within the existing building."
Andy Clifford, Admiral Taverns' property and strategy director, said: "There was interest from a local group representing the community in purchasing the pub and we understand the frustration some people will now feel, given that a sale has been agreed with another purchaser.
"I would like to stress personally, and on behalf of the company, the pub is not at risk."