Rachael Slack inquest: Ex-partner in death threat arrest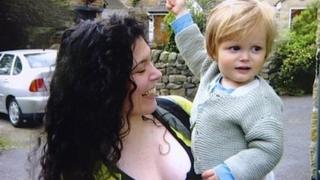 A man found stabbed to death alongside his pregnant ex-partner and their toddler son had been detained the previous week for making threats to kill, an inquest has heard.
Emergency services were called to 38-year-old Rachael Slack's home in Holbrook, Derbyshire on 2 June 2010.
Police found Andrew Cairns, 44, lying on top of Ms Slack, both with multiple stab wounds and the knife between them.
Their 23-month-old son Auden was taken to hospital with stab wounds but died.
Mental health problems
The jury at the inquest, being held at Derby and Derbyshire Coroner's Court, heard Mr Cairns had been detained by police under the Mental Health Act on 26 May.
Ms Slack had contacted Derbyshire Police about concerns for Mr Cairns, after she told him about her new relationship and pregnancy.
He was released the following day after an assessment which found he was not suffering from any major mental illness.
He was rearrested on 27 May, on suspicion of making threats to kill Ms Slack and attempted to call her 23 times.
He also turned up at her house to play with their son Auden and called her a bitch for "abandoning" him.
"I've given up everything to be with you. If you are going to make it difficult, I'll make it more so - you've no idea of what I'm capable of. I'll kill you and take him with me," the jury was told.
Under arrest, Mr Cairns denied the accusation and was released on police bail.
Stabbed 32 times
On the morning of 2 June, Mr Cairns, who had been known to psychiatric services "for a considerable number of years", went to his GP.
When he left the surgery, he went to Ms Slack's home. Neighbours reported hearing screams coming from the house.
Post-mortem examination results showed Ms Slack, who was three months pregnant, had been stabbed 32 times in the chest and back.
Mr Cairns had 18 stab wounds to his abdomen and chest and the inquest heard Auden, who had been stabbed 16 times, died from multiple wounds to his chest and abdomen.
Giving evidence, Home Office pathologist Professor Guy Rutty told the inquest he believed Mr Cairns' wounds were self inflicted.
"From a pathological point of view, it would not be of any surprise to me if Mr Cairns is responsible for the other two.
"I would favour that scenario but I feel ultimately, that it is the decision of the court," he said.
The inquest continues and could last up to eight weeks.