Derby public asked to help brighten up flowerbeds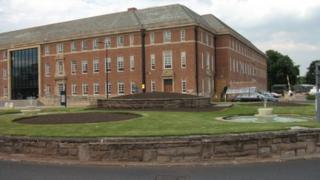 A council which scrapped its flower displays on roads and roundabouts has suggested the public step in to help brighten up the city.
Derby City Council hoped to save £102,000 over the next two years by cutting its Derby in Bloom funding and removing the flowerbeds.
The empty flowerbeds have been criticised for looking "rubbish".
The council is planting low-maintenance shrubs but says the public could help by planting flowers.
Ranjit Banwait, the Labour council's deputy leader, said: "We need to have a conversation with the people of Derby.
"It's our city together. To say it's just the council's responsibility is simply not going to work."
'Disgraceful'
Mr Banwait said the public should "absolutely" help plant the borders and add to the council's shrubs, which are costing £21,000.
"We want the people of Derby to be involved," he said.
It is not clear at this stage how the public could help brighten up the areas affected.
The council said it decided to scrap funding for Derby in Bloom to help balance its budget for the next three years.
John Nelson, a town councillor from nearby Belper, which won the largest town category in the 2012 Britain in Bloom competition, had opposed the plans.
He said: "It's disgraceful to see the flowerbeds that used to be absolutely gorgeous and now they are rubbish."