Peak District Stanage Edge sale plan rejected by authority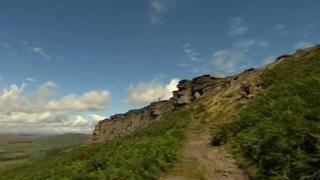 The authority in charge of the Peak District is to retain ownership of a part of its estate in Derbyshire.
The North Lees Estate, which includes Stanage Edge, faced being sold off by the Peak District National Park Authority (PDNPA) amid budget cuts.
Campaigners who feared access rights would be restricted collected more than 12,000 signatures on a petition.
The park authority said it had rejected the sale because it "valued" the estate's landscape and access rights.
Stanage Edge, which is popular with walkers and climbers, sits within the 545-hectare estate.
'Precious landscape'
The PDNPA's committee voted unanimously to retain ownership and management.
Committee chairman, Christopher Pennell, said: "We have always valued it [the estate] for its landscape qualities, nature conservation and for the access this estate has."
He said so many people came to visit "that we need to continue to own it to do the best that we can for them".
The introduction of parking charges and increased charges for camping "were an option" to be considered in order to help meet a £60,000 shortfall.
The British Mountaineering Council (BMC) who began the petition over fears access rights could be restricted if the area were sold said changes to car parking and camping charges could deter people from visiting.
One member of the Stanage Forum, Jean Hodgkinson, said she was delighted with the authority's decision.
"It is such a precious landscape that I think the PDNPA are the best people to look after it."