Al-Madinah school criticism prompts early inspection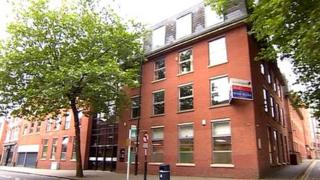 An Ofsted inspection of a Derby free school will be brought forward over concerns about how it is being run.
The Al-Madinah school has faced allegations it is imposing strict Islamic practices, such as segregated classes and compulsory hijabs.
Its acting head has rejected the criticism and said he would issue a full statement shortly.
But the Department of Education said a scheduled inspection would happen early in the light of "very worrying" claims.
Free schools are state funded, but outside of local authority control and are designed to allow parents, teachers, charities and businesses to have greater control in education.
Opened in September 2012, Al-Madinah school claimed to be the first Muslim ethos, all-through (reception, primary and secondary) free school in the country.
Last month, the Education Funding Agency confirmed it was investigating alleged financial irregularities at the school.
Now local and national media have published allegations from former staff over dress codes, girls being forced to sit at the back of classes and an over-emphasis on Islamic studies, to the detriment of national curriculum subjects.
Speaking briefly to BBC Radio Derby, acting head Stuart Wilson said he had received no complaints from parents and the staff dress code was made clear to all those who applied.
"The school's ethos is that all pupils are equal, and much of what has been reported is the result of miscommunication and misunderstanding," he said.
Mr Wilson said a more detailed statement would be issued in due course.
But a spokesman for the Department for Education (DfE) said it had been forced to act.
He said: "These allegations are very worrying. We have already been investigating this school for other reasons.
"Ofsted was due to inspect it this term and after discussions will bring forward its inspection.
"The DfE will not hesitate to take whatever action is necessary to prevent religious intolerance or any breaking of the rules for Free Schools."
Division Secretary of the National Union of Teachers (NUT) in Derby, Sue Arguile, said: "What is happening with Al-Madinah is really indicative of why we are concerned about free schools - because of the lack of accountability.
"If this was a local authority school and there were concerns being raised, the local authority would be investigating."