David Cox car slid into river on icy bend, inquest hears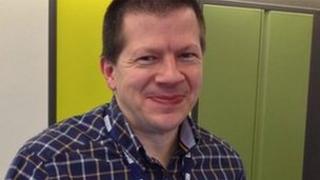 A father died but his wife and two children escaped when the family's two cars slid into a river, an inquest has heard.
David Cox's wife tried in vain to release her husband from his car by smashing the windows, while the couple's son and daughter ran for help.
Both cars skidded on the bend of an icy bridlepath next to the River Wye in Derbyshire on 24 January.
Mr Cox, 42, worked for the BBC's Future Media division in Salford.
Collision investigator PC Ian Phillips said the bridlepath was very slippery due to compacted snow and ice.
"The surface could not have been worse and the grip was very limited indeed," he said.
"As a result conditions would have been very difficult, particularly at the bend where this occurred."
The officer, who has undergone advanced driving courses, drove along the icy track on the day as part of his investigation.
He told the inquest: "I was actually quite frightened driving around that corner. It was actually quite a tense experience."
Mr Cox's Toyota Aygo slid and overturned at about 08:30 GMT, while he was driving his 11-year-old daughter Tess to school.
It happened north of the A6 near Buxton, about half a mile from the family's home.
'Proud' of children
His daughter managed to free herself from the car and swam to the bank.
Mrs Cox told police she saw her husband's car upside down in the river as she approached.
She told officers she slowed down to less than a walking pace on the icy track and that everything seemed to be going fine until her car slipped away without warning.
"Gravity kicked in and the car just seemed to topple over", Mrs Cox told police.
The car slipped down the bank and ended up next to Mr Cox's car, also on its roof.
The 39-year-old mother and her son Ioan, nine, both escaped from the vehicle.
In a previous statement, Mrs Cox said she was "very proud" of her children for running to cottages to raise the alarm with neighbours, who tried to save Mr Cox.
He was eventually freed by emergency services at about 09:15 GMT, after being trapped for about 45 minutes, and later pronounced dead at hospital.
He had head injuries and a post-mortem examination found that he died from immersion after being trapped in the icy waters.
The coroner recorded a verdict of accidental death at the inquest in Chesterfield.
The coroner also commended a report being put together by the Peak District National Park Authority, which is responsible for the track and issued a Report on Action to Prevent Future Deaths (PFD).
The authority is considering placing barriers at the bend, among other measures to avoid further accidents.
David's brother John said: "The trail is clearly a pathway to a beautiful area, but certainly that particular part needs work or something happening, in my opinion.
"If nothing else, we would like to hope that David's death is not in vain."