Rolls-Royce: Derby workers exposed to high radiation levels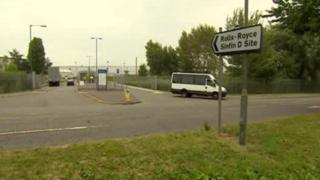 A subsidiary firm of Rolls-Royce in Derby has admitted exposing workers to high levels of radiation.
Derby Crown Court heard a piece of radioactive equipment broke while parts for nuclear submarines were being tested at its Marine Power Operations in Sinfin in 2011.
It has pleaded guilty to seven charges, brought by the Health and Safety Executive (HSE) and Environment Agency.
The HSE said Rolls-Royce had carried out "a DIY job" on the equipment.
The offences included failing to ensure the health, safety and welfare of its staff in respect of exposure to ionising radiation from radioactive sources and failing to make a suitable risk assessment.
There was also a charge relating to failing to provide employees with sufficient training.
The court heard that a piece of radioactive material fell off during testing of the integrity of welds.
The material, which was potentially harmful to human health, was later picked up by welders.
The court also heard that alarms used to warn workers were either turned off or not working.
The company is due to be sentenced on Thursday.